Use 50 % less energy
without decreasing the air quality
See how our customer saves 130 MWh of energy and 17 tons of CO2 – per year
Customer case:
Aallonharja office building in Espoo, Finland.
Why is the ventilation running at full power if no one is cooking?
Professional kitchens consume 5–7x more energy than other commercial spaces. Most of the energy is used for ventilation and heating.*
If the kitchen utilisation rate varies, traditional timer-controlled ventilation blows out expensive treated air – up to thousands of litres per second!
* Motiva: Energy-efficient professional kitchen
Solution:
Demand Control Ventilation – Safera FlowHero
The new intelligent demand control kitchen ventilation system, Safera FlowHero, ensures that ventilation operates at optimum efficiency at all times.
FlowHero controls the ventilation in real time according to the use of the kitchen, which reduces the energy consumption of the HVAC system by up to 50% without compromising indoor air quality.
Meet your sustainability goals and save money
FlowHero's demand control ventilation saves energy and promotes sustainability and its reporting.
Reduce your carbon footprint and save money: up to 50% lower energy consumption for HVAC system.
Take care of your employees' working conditions: active monitoring of air quality and lower kitchen noise levels.
Meet the requirements for sustainability certifications: verify energy savings and report progress automatically. Read more »
How does FlowHero save energy?
More than two-thirds of a professional kitchen's energy consumption is used for ventilation and heating. FlowHero can save up to 50% of this energy.
Energy savings depend on the utilisation rate of the kitchen, the ventilation equipment and the average temperature of the outside air, for example. Contact us and we will assess your potential for energy savings.
Savings start as soon as FlowHero is deployed.
The most significant savings are created in two ways:
1. Less heated or cooled supply air is needed
The heating energy of the supply air covers approximately 65% of the total energy consumption of professional kitchens. Blowing out the treated supply air unnecessarily wastes a tremendous amount of energy.
When less air is removed from the kitchen, there is also less need for expensively treated supply air.
2. Fans can be used at the lowest possible power
The powerful fans in professional kitchens are designed to move thousands of litres of air per second.
By controlling the exhaust and supply fans as needed, significant savings can be made on the energy consumed by the fans' motors. In addition, the noise level in the kitchen will be reduced.
We can evaluate the savings potential of your restaurant and present the actual results from our customer cases.
This is how FlowHero works
FlowHero is suitable for both new and existing professional kitchens, and it is available either as a system integrated into the hood or as a separately installed accessory.
This is how FlowHero works
FlowHero is suitable for both new and existing professional kitchens, and it is available either as a system integrated into the hood or as a separately installed accessory.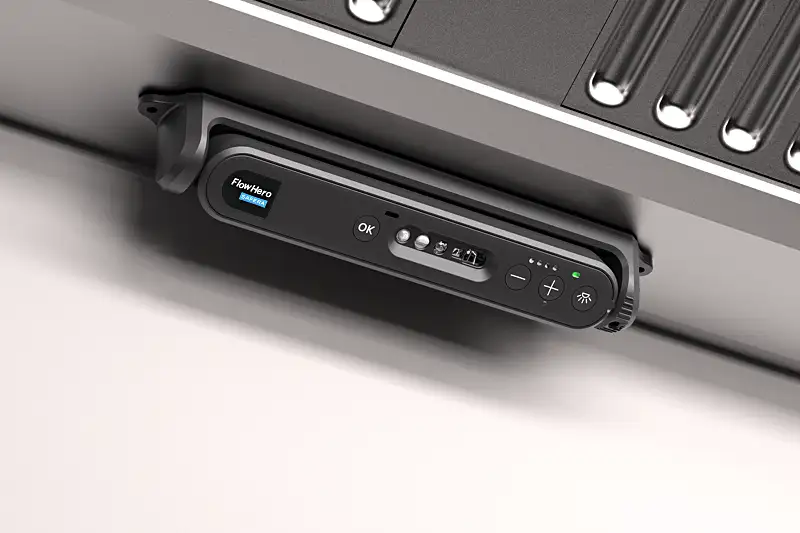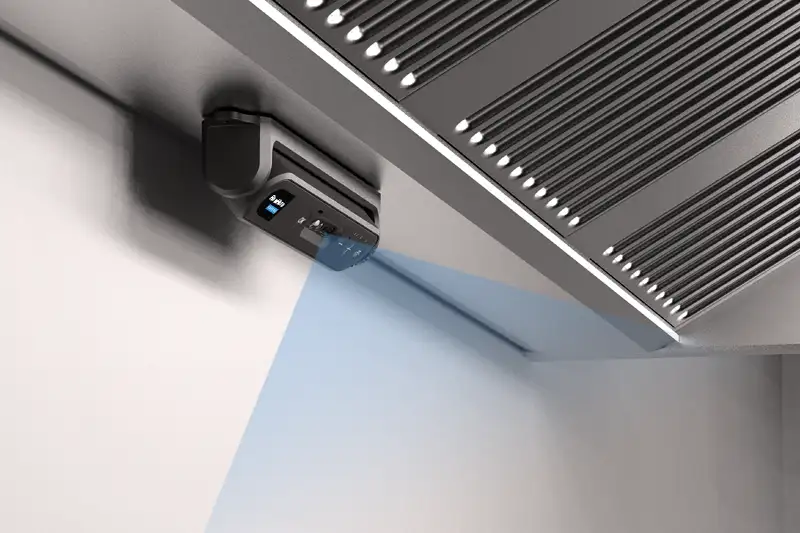 The FlowHero multi-sensor system monitors how the workstations are used and controls the ventilation as necessary.
At the same time, FlowHero monitors the indoor air quality in the kitchen to ensure good working conditions. FlowHero can control the ventilation individually or as a whole, and it is compatible with most ventilation systems.
FlowHero is available as a pre-integrated solution in Climecon's ventilation systems or as a retrofit to existing professional kitchens.
Identifying different usage situations reliably
The FlowHero sensor unit is installed at the edge of the hood, where it monitors the use of the workstation in real time with several sensors, such as IR, temperature, humidity and presence sensors.
By combining sensor data, FlowHero can immediately determine what is being done at the workstation and how it affects the need for ventilation – even proactively.
Active monitoring of air quality
FlowHero monitors the air quality in the kitchen in real time so that energy is not saved at the expense of air quality. FlowHero is also able to determine if it is advisable to temporarily improve the ventilation before the air quality exceeds the limit values.
FlowHero monitors temperature, humidity, organic gases (TVOC), carbon dioxide (eCO2) and fine particulate matter (PM2.5).
Energy savings monitoring and reporting
FlowHero stores sensor and ventilation control data in Safera's cloud service, where energy savings and air quality can be monitored almost in real time.
The cloud service makes it easy to verify and report on progress towards energy savings and responsibility goals.
Green building certificates and FlowHero
If your goal is excellent results in the sustainability certifications, Safera FlowHero can bring additional points to the most common certifications, such as BREEAM, LEED and Green Key. With FlowHero, you can report energy savings and compare the change with previous energy consumption easily via the cloud service.
Energy and Atmosphere
Optimize Energy Performance
Ene 08 Energy efficient equipment
Solutions deemed to comply with the criteria for the reduction of equipment energy load from significantly contributing systems: Ref. F Commercial kitchen and catering facilities
Restaurants, hotels and hostels
7. Energy
7.2 Heating, ventilation, and air- conditioning control systems must be in place.
Uniquely intelligent technology
with over 15 years of experience
Safera has been a pioneer in smart multi-sensor solutions for over 15 years. Our technology makes cooking safer and easier in over 300,000 homes around the world. Our sensor technology understands what's going on in the kitchen. Now we also bring our know-how to professional kitchens by introducing a smart demand control ventilation system: Safera FlowHero.
Contact us! We evaluate the savings potential of your restaurant and present the actual results from our customers' locations.