The first stove guard that assists in cooking, monitors air quality and prevents cooking fires.
Safera Sense stove guard helps you to cook smarter and safer by monitoring your stove and guiding you with cooking notifications. Place the Safera Sense above your cooktop and connect it with the Safera App.
You'll able to reduce fire risk, maintain better air quality while cooking and control the cooking times and temperatures easier.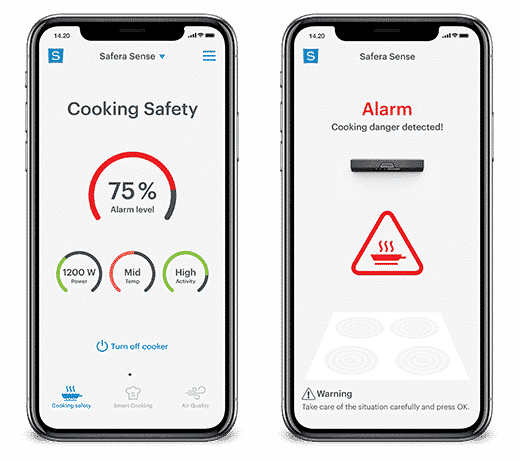 Is your attention needed elsewhere? That's ok, we'll cover you.
When the stove is on and you are not standing next to it, Safera Sense is your intelligent stove guard. It will sound an alarm if it recognises a possible fire risk. When upgraded with a Safera Power Control Unit, Safera Sense also shuts down the power supply to the stove to prevent a fire.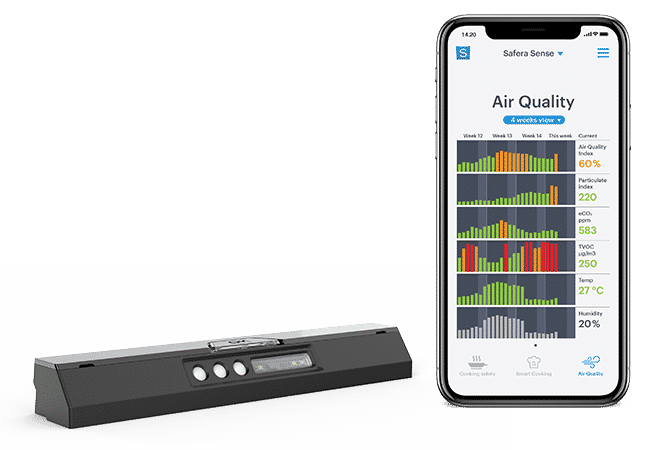 Do you know the air quality of your home? We'll tell you when it's time to ventilate.
Cooking increases indoor air pollution and it is one of the main sources of the harmful small particles at home. Safera Sense gives you live diagnostics of PM2.5, TVOC, eCO2, temperature and humidity so you learn how your cooking affects the air quality and when you should ventilate your home.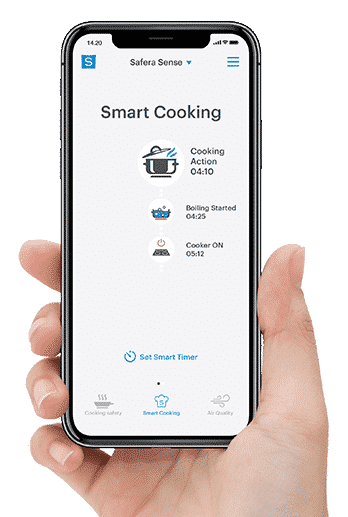 Forgot to set a timer? No worries, it's already running.
Safera Sense recognises various cooking events and sets up automatic timers. If you don't know how long you have cooked your pasta, just simply check the app for past events. Safera Sense also estimates pan temperatures, so you will know when your pan is perfectly preheated for frying.
The only stove guard that reduces both short and long term risks of cooking.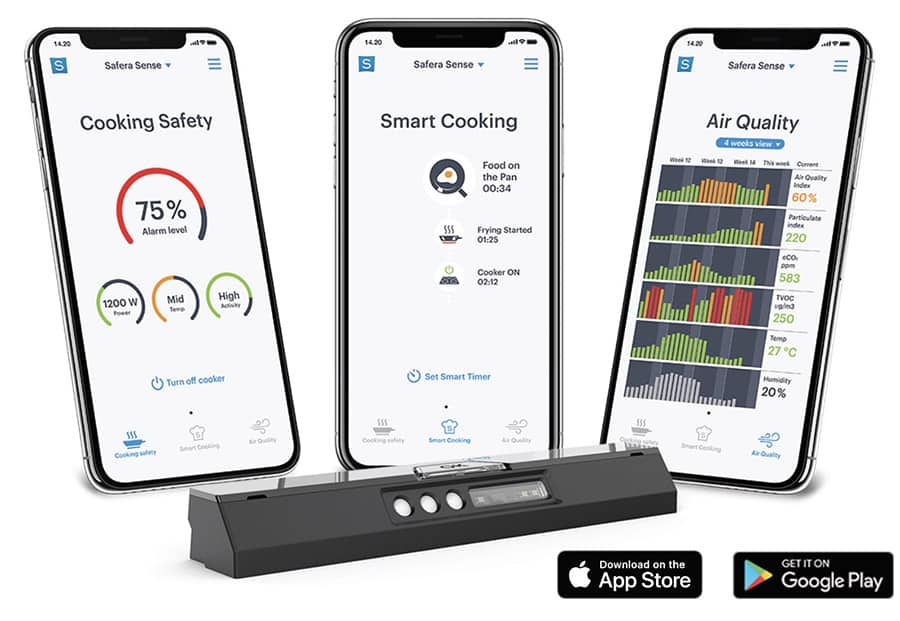 Choose your Sense – Starting at 129€
Mounting location of the sensor unit
Wall and cooker hood bottom mounting
Wall and cooker hood bottom mounting
Wall and cooker hood bottom mounting
Installation Guide & Cooking Notifications
Fire Prevention Compliant with EN 50615*
Smart Timer & Pan Temperature Assistant
PM2.5, TVOC, eCO2, Temp., Humidity
Remote Monitoring of the Safety of Your Loved Ones via Wi-Fi
* A Power Control unit is required to meet EN 50615.
Compliant to EN 50615 Meets the requirements of the European stove guard standard EN 50615 for cooking fire prevention when connected with an optional Power Control Unit.
Compatibility Compatible with typical electric and gas stoves.
Safera App Download the free Safera App.
Air Quality monitoring Measures all the main cooking related air pollutants: PM2.5, TVOC, eCO2, humidity and temperature.
Smart Cooking Assistance Smart A.I. recognises and records cooking events to a visual timeline.
Revolutionary sensor technology Hybrid Sensor System monitors cooking with more than 10 sensors.
Firmware over-the-air updates Updates are available over- the-air via the Safera App.
Low power consumption Unique data processing enables extremely low power consumption and a long battery lifetime.
Compact size sensor unit The multi-sensor system has been compressed into a compact size sensor unit making it easy to retrofit to existing kitchen environments or to integrate it into home appliances.
High memory capacity Memory drive stores thousands of cooking events.
Data protection Strong hardware-assisted encryption protects the cooking data.
Personal data and privacy If the user allows it, the cooking data can be stored in the Safera cloud.