Are you ready for the future of smart cooker hoods?
Safera stove guard – The smartest way to improve cooking safety
Stove guard reduces the safety risks of home cooking
Home cooking is good for your health and getting more and more popular. To some cooking is a dear hobby or a family tradition, to other it's a necessity to live independently or just one of the daily routines.
But did you know that there are also risks related to cooking we rarely think of?
Read more and see why stove guard is the smartest way to reduces those risks.
Meet Safera Sense stove guard
The only stove guard that reduces both short and long term risks of cooking.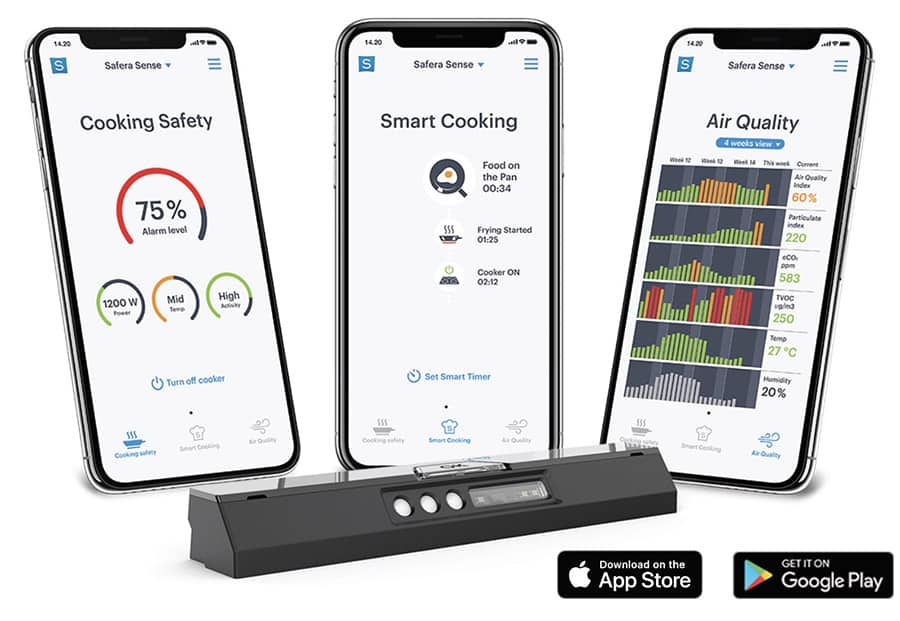 Safera Sense stove guard helps you to cook safer and healthier by monitoring your stove and guiding you with cooking notifications. You'll able to reduce fire risk and to maintain better air quality while cooking. It even helps you to control the cooking times and temperatures easier.
How Safera stove guard works?
Safera monitors:
Stove temperature
Power consumption
Human presence
Air quality (PM2.5, eCO2, humidity, TVOC)
Safera prevents cooking fires and helps to maintain good air quality:
No activity is required from the user
The alarm is triggered only in hazardous situations
If necessary the stove is automatically shut off in case of fire hazard
Does not interfere with everyday cooking
See why Safera is the most effective way to prevent cooking fires.
Fire blanket, extinguisher︎
Meets the EU standard EN 50615 for cooking fire prevention.
Prevents hazardous situations by turning the stove off before the fire.
Prevents cooking fires when user is absent.
Suitable for all user groups, does not require learning new things.
Does not interfere with cooking.
Recognises different cooking situations.
Anticipates hazardous situations.
1) Ask third-party granted certificate from the manufacturer
Want to hear more? We are happy to help.
"Our mission is to promote safer and healthier living by developing technologies that sense what humans don't."
Our technology produces the world's richest data of home cooking. With the data, we are able to prevent cooking fires, to improve air quality and to better understand people's cooking behaviour.
As of today, hundreds of thousands of people are cooking safer because of our smart stove guards. Also, with the help of our products, insurers and property owners are able to help their customers to live safer and healthier.
The world's richest data of home cooking
Safera monitors the cooking environment in real time by combining data from several sensor type. Unique to Safera the analysis is based on high frequency cooking data, and Safera splits every cooking moment into tiny fractions which tell a bigger story.