Safera Aurora Stove Guard for ceiling mounting is a reliable solution for a modern open plan kitchen.
Ceiling mounted stove guard
Safera Aurora stove guard consists of three parts: the sensor unit monitoring the cooktop, the cooker power control unit and a remote control.
The smart sensor offers the most reliable and flexible ceiling installation on the market up to 3,5 meters: the wide-angle sensor automatically detects the cooktop location in the sensor view for easier installation and to ensure a clear sight to the cooker.
Safera Aurora is immediately ready for use. A power control unit is connected to the power supply of the stove. The Stove Guard automatically detects the stove type. The sensor and the power control unit are pre-paired to work together with a 2-way wireless connection.
A remote control is easily available for example on the fridge door attached with magnet.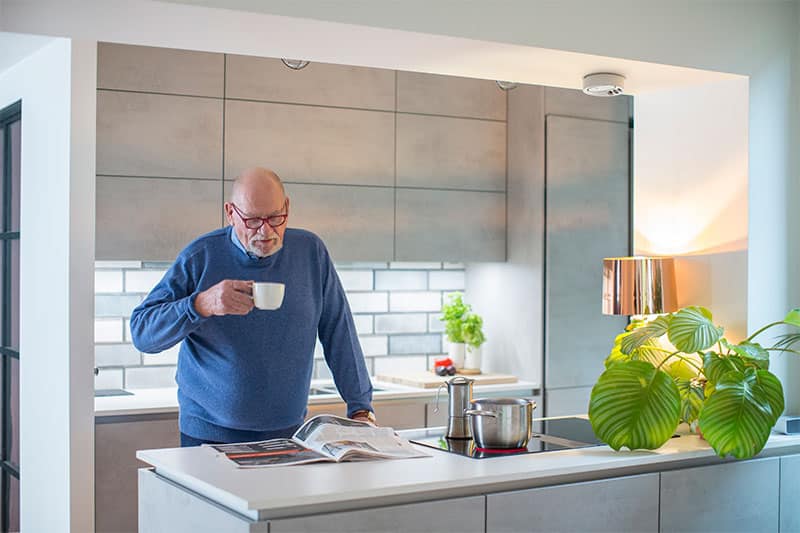 Battery type 4 x AA/LR6 Alkaline
Battery life 2 – 3 years
Safera Remote Control Battery type CR 2032, battery life 5 – 10 years, wireless connection Infrared.
Widely compatible. Compatible with most of the induction, ceramic and iron plate cookers for household use with both 1- and 3-phase cooker wiring. Select the suitable unit based on the power supply and stove type, see comparison here. Adjustable alarm limit to various installation heights.
The most effective way to prevent cooking fires. Safera Aurora Stove Guard senses danger in advance. If necessary it sounds an alarm and cuts off the cooker power before the fire ignites. Aurora meets the requirements of the European stove guard standard EN 50615 for cooking fire prevention.
The smartest stove guard on the market.Safera is the only solution which can prevent a fire without interfering with everyday cooking. Safera uses advanced artificial intelligence to create a digital model of the cooking environment based on high precision cooking data. Thus, Safera is capable of understanding – and also predicting – what is happening on the cooker.
The easiest and quickest installation. Battery-operated sensor unit with 2-3 years of battery life. Wide angle sensor with auto-detection of the cooktop location. Pre-paired 2-way wireless connection (2,4 GHz). Detects the cooker type automatically.
Advanced self-diagnostics. Safera Aurora monitors its working order automatically for fail-safe operation. The cooker auto-lock is activated if the sensor unit is removed from its position, the batteries have run out or the self-diagnostics are not passed.
Easy to use. Fully automatic cooking safety, no activity is required from the user. An alarm can be acknowledged by pushing a button. A remote control with magnet attachment can be stored conveniently for example on a fridge door. Unique multi-colour LED lights indicate the status of the Stove Guard.
Connected. Smart home or home automation system connection available for remote alarm etc.
Customisable. You can further improve the safety and comfort of your kitchen with accessories: Safera Water Leakage Sensor, Remote Plus.