Household appliances are no longer just everyday conveniences
Homes are now being equipped with household appliances with smart features that take comfort and safety to a new level. The change can especially be seen in the kitchen, where the standards for effortless everyday life are high and where people are spending even more time together. In a modern kitchen, household appliances can sense hazards before they happen and they can also help prepare food in brand new ways.
Everyone deserves a home where it's safe, easy and comfortable to live.
This has been Safera's primary goal since founding the company. We help by creating spaces where technology takes care of the everyday comfort and safety automatically in the background, so that the residents don't need to.
The majority of accidents and incidents in the home occur in kitchens. Modern household appliances and devices can already anticipate hazards that can happen while cooking.
A safe kitchen needs devices that can easily be linked to your home's automation system and are adept at sensing what is happening in your home. Our sensor systems are already being used in many such products.
Household appliances take over the kitchen routines
While homes and housing are evolving fast, certain things remain the same.
The heart of the home still remains the kitchen. Kitchens are where a lot of work is done and a lot of time is spent, so modern household appliances can greatly affect living comfort and safety.
By automating routine kitchen functions such as lighting, ventilation and household appliance control, the residents' can instead enjoy their time together instead of cooking. The smart sensor system ensures that the kitchen air is fresh, but at the same time it doesn't blow warmed or cooled air out, wasting energy unnecessarily.
The smart kitchen hood ensures that the kitchen ventilation works correctly
In 2021, the Sense cooker hood was launched, which was a collaboration between the Norwegian cooker hood manufacturer RørosHetta and Safera.
Sense is anything but an ordinary cooker hood – it was designed from the ground up to be a smart, safe and healthy air quality assistant for cooks who value the best possible quality.
Sense cooker hood automation reduces energy consumption. The cooker hood automatically controls the fan as needed, even if you forget to turn it off. It may come as a surprise to many that a cooker hood accidentally left on during the heating season can consume up to a euro of electricity per hour by ventilating the warm air outside unnecessarily!
Pleasant on the eye and easy to use
The Sense cooker hood was designed with many cooking convenience features that are not yet found in many other kitchen hoods.
Sense detects when you start cooking on the stove. The device also senses air quality (PM2.5, tVOC, temperature and humidity) in real time, and adjusts ventilation automatically. The lights at the cooking station are also automatically adjusted.
The device's powerful sensors can measure the temperature of the frying pan with unprecedented accuracy. The passionate cook can use Sense to adjust the cooking temperature of the steak to just the right temperature. 
Sense has also taken into account the importance of quality lighting, both for cooking and as part of the overall stylish interior design of the home. The lights can be set to work completely automatically, and the user can also adjust the colour temperature, light intensity and brightness, and create their own settings for different situations.
While creating settings for different cooking situations, you can also create a general atmosphere or highlight the details you want – the only limit is your imagination!
To make the installation of the kitchen hood easier was also a priority. The installer can remotely configure the appropriate settings for up to dozens of Sense devices at a time, so ventilation can be adjusted at the touch of a button.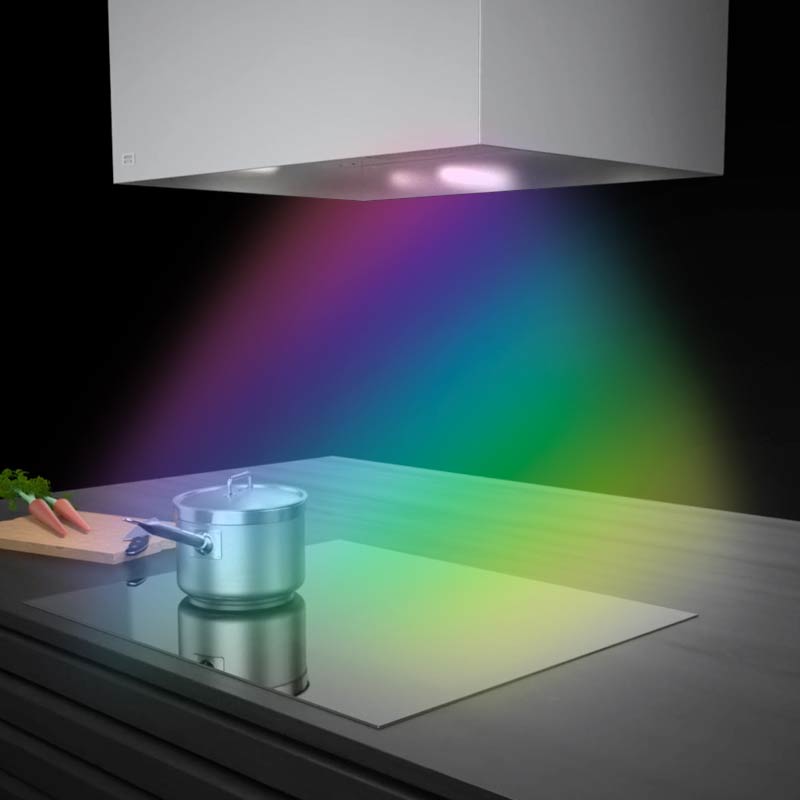 The cooker hood measures indoor air quality and ensures safe stove operation
A significant proportion of cooking incidents occur around the stove.
At the core of Sense is the industry's most advanced sensor technology, which reliably detects what's happening on the cooker. This also enables the device to automatically prevent incidents before they happen. 
Cooking produces fine particles that are an invisible health hazard. Fine particles can cause, among other things, shortness of breath and symptoms in people with cardiovascular disease.
The Safera-designed fine particle sensors integrated into the Sense can detect the smallest (and therefore most dangerous) PM1 particles with exceptional reliability. 
Many of the air quality meters found in homes are unable to provide a reliable picture of concentrations, especially of the smallest fine particles. The Sense cooker hood works as a reliable and versatile indoor air measuring device for your home, which can also be used to detect fine particles caused by wood burning in the fireplace, for example.
But Sense is more than just a regular air quality meter: it also actively ensures good indoor air quality by controlling ventilation based on air quality.
Ready-made solutions for safer and smarter living
Sense technology is available pre-integrated in the cooker hoods of our partners, and we can also implement cooker hood automation as a separate project in cooperation with real estate developers. The technology is compatible with most home automation systems.
Our easy-to-use solution for cooker hood manufacturers is the integrated Safera Sense Integral. It allows you to equip your cooker hood with many of the advanced features mentioned in this article.
With Sense Integral, the cooker hood can, for example, automatically adjust LED lighting, reliably monitor air quality, assist the cook with cooking times and temperatures and even detect when cooking is unattended.
Safera is a pioneer in smart sensor solutions. Our development platform uses proprietary AI technology developed for multi-sensor systems to accelerate the design and deployment of systems for your applications. This gives our customers and partners a clear advantage over their competitors.
"Sense is an ambitious cooker hood solution with all the features a demanding consumer could wish for. The stylish design, its customisability and the ambitious technology also put the device's resale price in the premium category. However, the same smart features can also be implemented with the Sense Integral control system in the lower-priced mass-market products," says Sampo Rantakokko, Sales Director at Safera.
Could Safera's smart sensor solutions be used in your devices?
Let's find out together. Reserve a chat with one of our experts to find out how we can help you to create smarter and safer living.
"It's interesting that although we've had extensive energy consulting projects in the property before, this gap has not been noticed at all,"
Read more »
When the outdoor temperature drops to zero and below, heating your home is probably the biggest cost in your electricity bill. You have probably heard
Read more »