Smarter and safer cooking
Safera Sense is here to change smart cooking. The Smart Cooking Sensor recognizes various cooking events and sets timers automatically, monitors air quality and tells you when it's time to ventilate, and alarms if the stove has been accidentally left on.
Sometimes we can't focus 100 % on cooking because our attention is needed elsewhere. Wouldn't it be nice if your stove would be smart enough to tell you, when your pan is ready for your food? when you should turn on your cooker hood? How about if cooking timers were set for you or would notify you if the stovetop was accidentally left on?
Meet Safera Sense the Complete Smart Cooking Sensor that gives supersenses to your stove! Safera Sense not only helps you with your cooking routines, it makes cooking smarter and safer in three ways:
It helps to prevent cooking fires by recognizing fire hazards.
It sets automatic timers to your cooking.
It even monitors your air quality.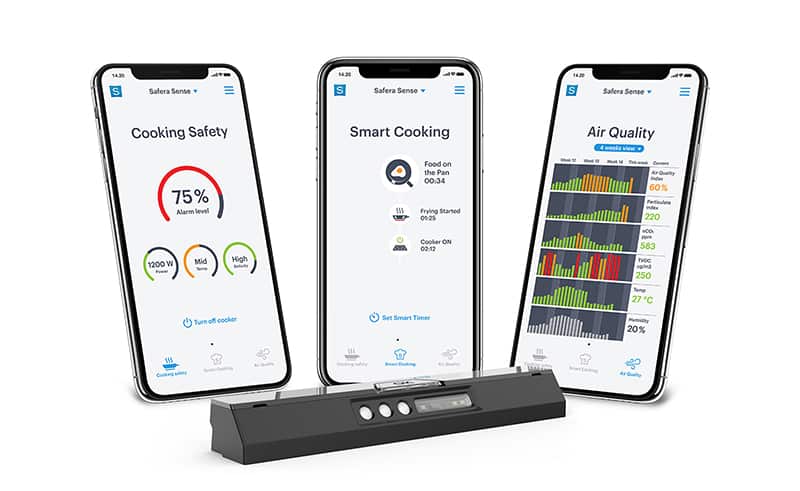 All this is done by a slim, discrete device that is quick to install. Simply place it above the cooktop, wall, or under the cooker hood. This one-button device is very simple to use, and is packed with highly advanced technology. The smart sensor has a powerful processer that analyzes data from over several sensors. These sensors actively measure stove temperature, air quality, cooker power consumption and even human activity around the stove. Don't worry, these supersenses can be given to both electric and gas stoves. 
In addition, you can upgrade your Safera Sense Complete Smart Cooking Sensor to control your cooker. The Safera Sense can be paired with a wireless Safera Power Control Unit. Then you will have even more advanced ways to make your cooking smarter and safer.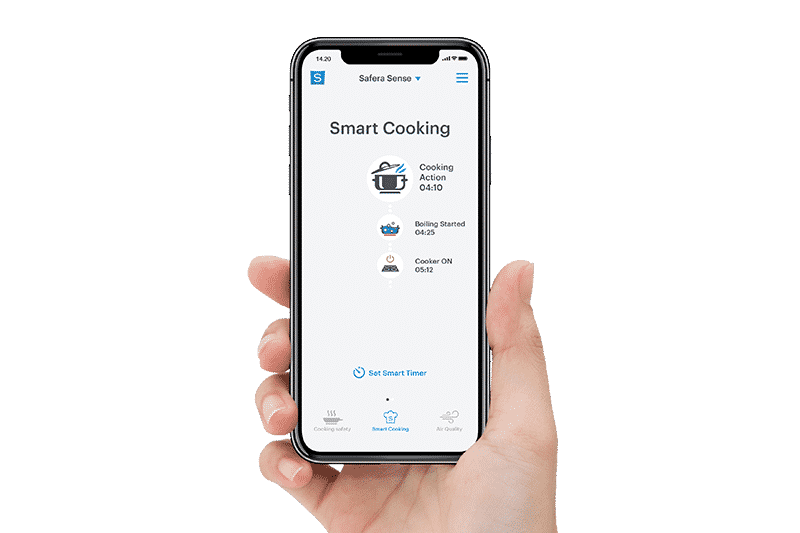 Safera Sense recognizes various cooking events and creates a visual timeline. For example, the timeline you can easily see for how long your pasta has been boiling. If you wish, you can also set up timers from past cooking events to alert you when your food is ready. Ready to cook a steak? Safera Sense will tell you when your favorite frying pan is pre-heated perfectly by estimating the pan temperature.
Cooking decreases your home air quality. The small particles PM2.5 are especially harmful. People cannot see or smell the small particles, and they often ventilate their home too late. Safera Sense monitors air quality and notifies you when it is time to ventilate during cooking. With the Safera app, you also learn how your cooking affects air quality.
Cooking is the #1 cause of home fires. People forget to turn off the cooker or leave it unattended for too long. Safera Sense is designed to stop the danger before the fire ignites. It is compliant to European cooking fire prevention standard EN 50615.
Safera Sense will sound an alarm and notify the user with the app. If you have upgraded Safera Sense to control your cooker, then Safera Sense also cuts off the cooker power automatically – even if you are not at home or able to take action.
If you connect Safera Sense to your smart home system, you can also remotely check you stove, or even turn it off. You also get alarms remotely, so that you can for example see if your kids or elderly parents are using the stove safely.
"It's interesting that although we've had extensive energy consulting projects in the property before, this gap has not been noticed at all,"
Read more »
When the outdoor temperature drops to zero and below, heating your home is probably the biggest cost in your electricity bill. You have probably heard
Read more »